It has been over a year since I last painted a commissioned or custom painting. I have always had a love-hate relationship with commissioned art. I love that part where I can make someone happy - to capture something of their pet or their childhood or their imagination and bring it together in a way that is both what they expect and also something a bit different than what they had visualised. It is also a massive compliment when someone wants to commision me to make a special painting for them but it can also be quite a lot of pressure. I have to try to understand what a person is really wanting this painting to portray - what meaning and depth needs to be embedded into the canvas? How can I portray those loved ones that I have never met, so that they resemble their character and features, while still keeping my somewhat quirky style? So I spend a lot more time on commissioned work than I do from my other art. 
Most of my artwork grows organically from that creative space inside my mind and even more so from my heart and soul. This kind of painting makes me the most happy - but it is not all about me. Making others happy is also super important. And let's be honest - making an income is also super important. So Ive decided to start up commissions again and see where it takes me. 
Examples of commissioned work so far: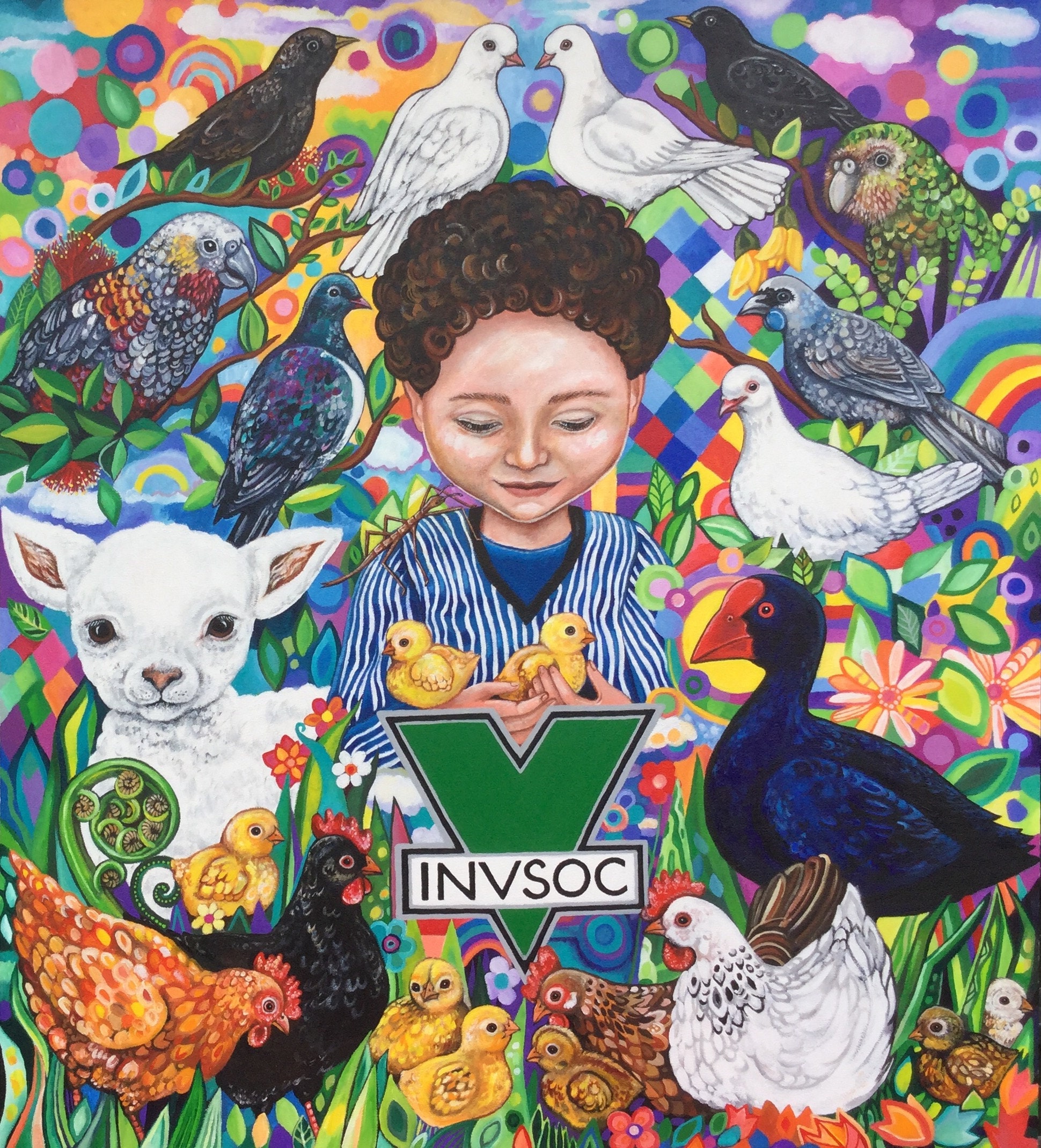 'Life's Work' is a big painting commissioned by Jordan, leader of INVSOC (Invercargill Vegan Society). This is one of my big paintings, measuring 100 x 90 cm - my favourite size for fitting heaps of things into. This painting is of Jordan as a child surrounded by animals that have significant and personal meaning to him.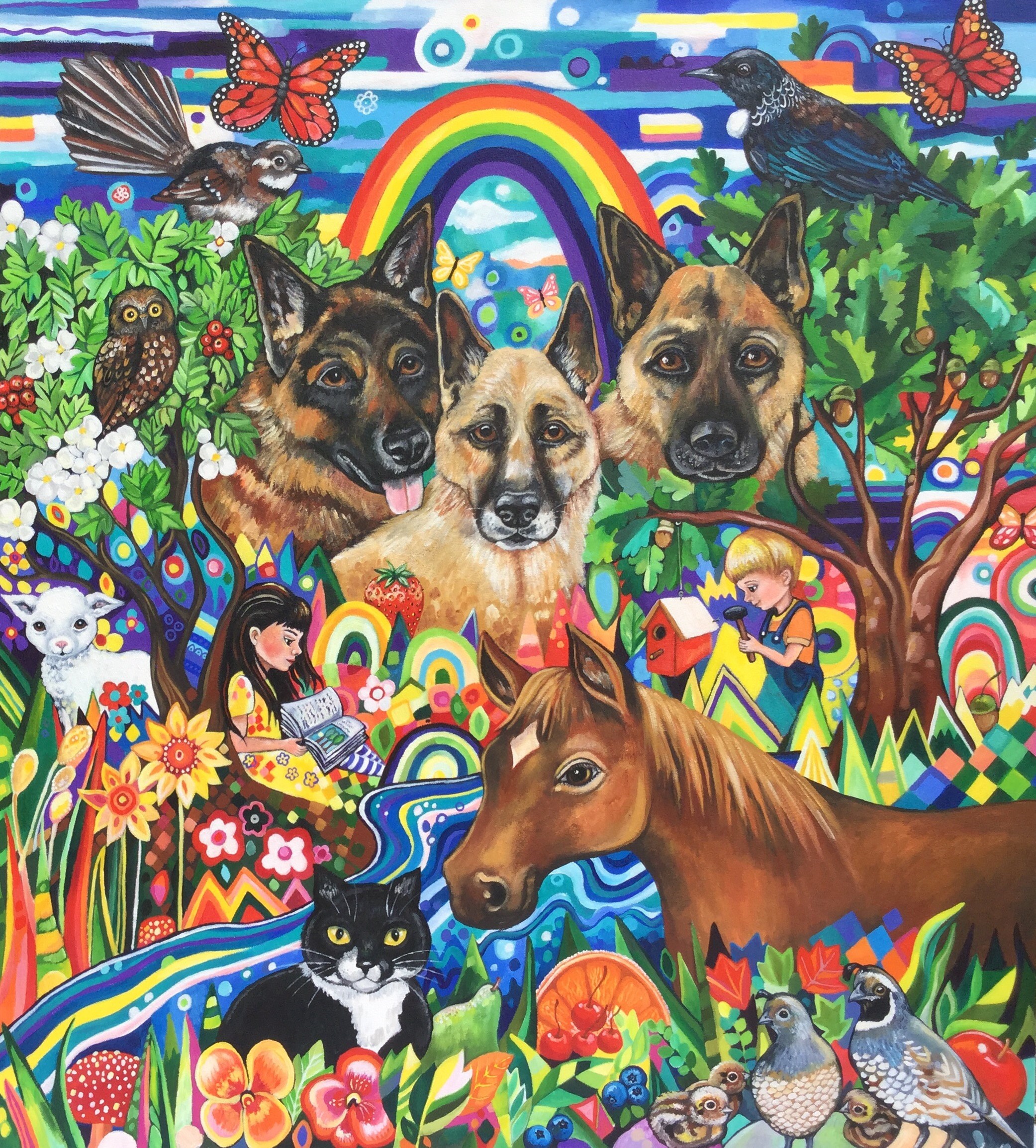 Family Portrait' (another big sized painting) was commissioned as a painting of the special animal family members that are no longer with the family, along with 2 children who represent the adults who this painting now belongs to. Extra things such as native birds, butterflies and a rainbow were added at request.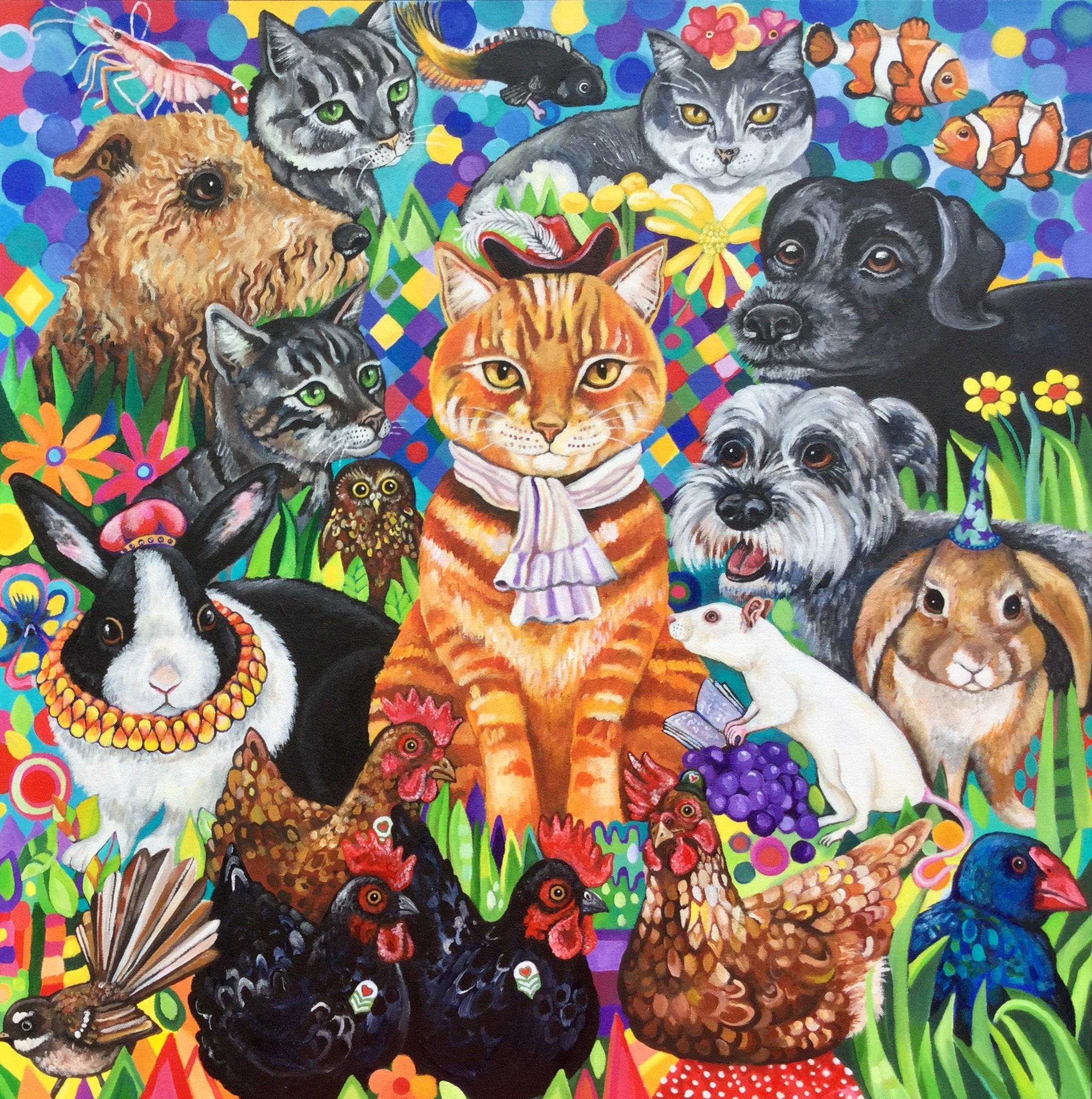 'Monty and Friends' was a joy to paint as it appealed to my sense of humour and love of storytelling. This 80 x 80 cm painting depicts the owner's animal family (past and present) and was an anniversary gift from a lady to her husband. Each animal came with photos and a story about their character and how their human parents saw them. 
So there are three examples of what I have done in the past. If you are interested in having something painted espcailly for you, I have some 'terms and conditions' you may want to have a read through that I will copy and paste below. From past experience I have come to know that it is important to be up front with expectations to make the experience as joyful as possible for everyone. 
COMMISSION / CUSTOM ART CONTRACT 
and TERMS AND CONDITIONS
                                    Art by Lynda Bell 
Thank you for choosing to have a custom painting, painted by me. Custom paintings are always more time-consuming than my usual intuitive paintings, therefore I have a few terms and conditions to mention and discuss before we both agree to go ahead and work on your painting: 
1. It is important to mention that I am not a portrait artist. Although my painted animals and people seem 'real' in many ways, they are not based on any particular person or animal – rather they are created in part from my imagination and from reference pictures. If you would like your pets or yourself or someone you know to be in your painting I will try my best to create a likeness but it will be in my style. So it will not be photo-reality and will look a little different to the 'real thing'.
2. Please make sure you are familiar with my work before asking for a commission so you know my style and are familiar with the sizes that I work with.
3. I cannot and will not replicate any work I have previously painted. Every painting I paint is unique. I will also not copy anyone else's style or try to replicate a painting made by anyone else. 
4. I tend to paint large. It is not easier for me to paint something in a smaller size. The smaller the size, the less animals/people/things will be in it. Sizes I can work to are listed below. If you want many things in your painting, the size will need to be bigger, and we can negotiate this together. 
5. I will not say yes to everything – I am open to hearing what you want in your painting, but will let you know if it is not right for my style of painting. If it is something I believe I can do a good job of, then I will happily agree. My most successful commissioned paintings are those where I can have a little creative freedom as well as painting what my client wants.
6. I require a deposit of 50% (minimum) up front before I commence on your painting. This deposit can only be refunded within 7 days if you change your mind, otherwise it is non-refundable as I will be using that money to buy the canvas and paints that I will need to begin your painting. 
7. I am happy for you to pay the rest of the painting off in instalments as long as the painting is paid in full within a week of its completion. If you are not happy with your painting once finished these payments will be refunded to you, minus the initial 50% deposit. 
SIZES AND PRICES
*This is a guideline only and is subject to vary a little depending on what you want on your canvas
             SIZE:        PRICE of painting:    Postage: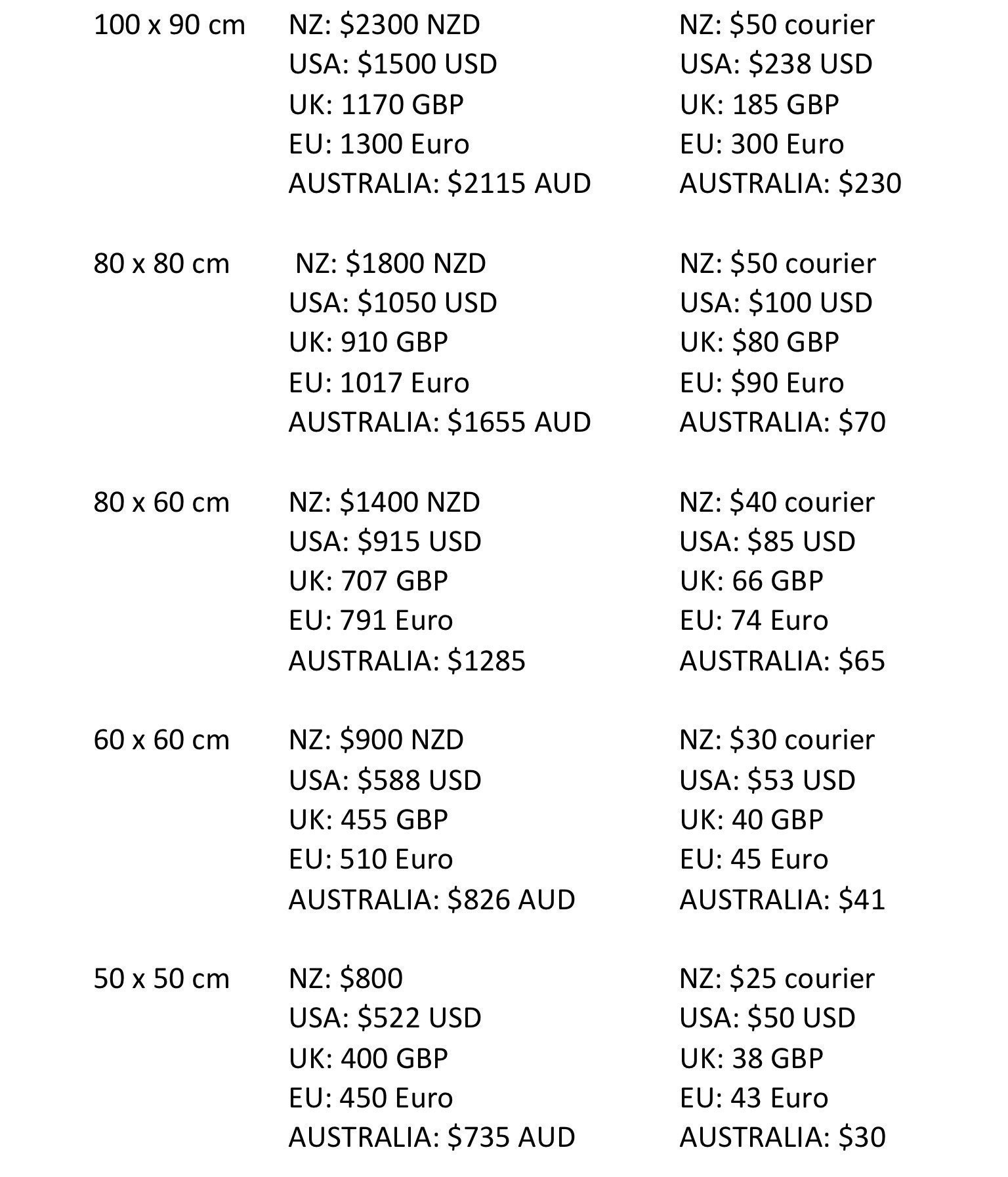 What the sizes mean: (as a rough guide only)
I am happy to work in dimensions not listed here but prefer not to go any smaller than 50 x 50 cm or 50 x 40 cm. The smaller the painting the more 'simplistic' it will be.
100 x 90 cm: 1 person + up to 12 animals / 2 people + 5 or 6 animals / just animals: up to 15
80 x 80 cm: 1 person + up to 10 animals / 2 people + 4 animals / Just animals: up to 12
80 x 60 cm: 1 person + up to 8 animals / Just animals: up to 10 (this is the smallest size for people painting) 
60 x 60 cm: 1 main animal + smaller friends 
50 x 50 cm: 1 main animal + some smaller if desired (prefer not to paint the whole body in  this size but this depends on the animal) 
*Prices in all currencies except NZ are subject to change. These amounts are based on the currency exchange rates and postage rates on 10 September 2018. 
*Prices do not include Paypal / Etsy payment fees
*Postage is NZ post international courier which is tracked and insured through the postal company. 
NOTE: **Postage to some countries can be risky. I have had some problems so far with sending artwork to South America, Dubai and Israel. All work has eventually arrived, but has been very delayed and a little damaged along the way. Sending to these countries via post are at the buyers own risk, or we can look at sending via FedEx or DHL for a higher shipping expense. 
AGREEMENT
I, ________________________________ agree to the following: 
I have read and understood the terms and conditions as outlined in Lynda Bell's commissioned painting contract 
I commission Lynda Bell to paint a painting for me of the following –
Size: _____________ Price: ____________
Details_______________________________________________________
I agree to pay a deposit of 50% of the agreed price within one week of signing this agreement. I understand that this deposit is non-refundable after 7 days of paying it. 
I understand that the remaining payment is due within one week of the completion of the painting. 
Signed:____________________________________.  Date: _________________________
Please provide Lynda with clear photos (if applicable) of animals / people in positions that you would like to have them painted in. Front facing is preferred. These photos and any details of the people or animals in them will be kept private and not shared with anyone else.